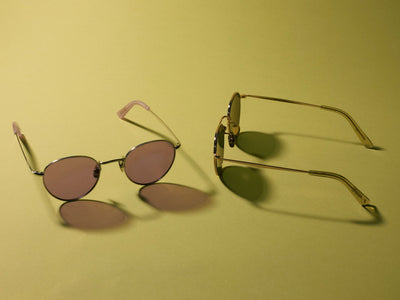 Loyalty Program Terms & Conditions
These terms and conditions will explain how you can earn points using our loyalty system, and furthermore how to use your points to claim rewards. To take part in our loyalty program, all terms and conditions must be accepted by the user, including any subsequent updates. By registering and taking part in our loyalty program you acknowledge that you have read, understood and agreed to these terms.
SECTION 8 BELOW CONTAINS A BINDING ARBITRATION CLAUSE AND A CLASS ACTION WAIVER.  THEY AFFECT YOUR RIGHTS.  PLEASE READ THEM.
1. Membership Eligibility and Overview
1.1. The DL Rewards Loyalty Program ("Program") is offered at the sole discretion of DL Life Goods, LLC ("DL Eyewear", "we," "our" or "us").  The Program is available to individuals for their personal use only and is limited to one account per individual.  Corporations, associations or other groups may not participate in the Program.  Individuals who are residents of the United States (including its territories and possessions) and at least over the age of 18 years or older and who provide and maintain a valid email address are eligible to become members.  Employees of DL Life Goods, LLC and individuals employed by our business partners or vendors are eligible for membership for personal use only but may be excluded from certain benefits of the Program. While at this time, subject to modification or termination at any time in our sole discretion, you may participate in the Program as a non-U.S. resident, you affirmatively consent to the exclusive jurisdiction of U.S. courts and application of U.S. law as provided herein and knowingly and voluntarily waive any claims or defenses based on or arising out of your country of residence.
1.2. By joining the Program and becoming a Program member, you (individually and collectively, "you," "your," or "Member"), agree that you have read, understood and agree to be bound by these Program Terms and Conditions of Participation ("Program Terms") and by any changes or modifications we may make.  You should review these Program Terms and the related policies and FAQs frequently to understand the terms and conditions that apply to the Program as they may change from time to time.  These Program Terms do not alter in any way the terms or conditions of any other agreement you may have with us, including any agreement for products or services.  By enrolling in the Program, you also agree to be bound by our Privacy Policy and our website Terms, which are incorporated herein by reference.  If you do not agree to these Program Terms, our Privacy Policy, and our website Terms, you cannot participate in the Program.  The Program is void where prohibited by law.
1.3. Any discrepancies in Program terms shall be determined at the sole discretion of DL Eyewear.
2. Program Enrollment
2.1 Eligible individuals may only enroll in the Program by visiting www.thisisdl.com (collectively, the "Site") and following the Program prompts to register for the Program.
2.2. You are required to provide your first name, last name, and valid email address and to create a password in order to enroll in, participate in, or remain a member of the Program.  You may also have the opportunity to provide us with your mailing address, birth date and mobile phone number, but this information is optional.  You are solely responsible for maintaining the accuracy of your account information and for updating it as required. You may update your personal information on the Site.
2.3. Only one Program account may be associated with a single email address.  In the event of a dispute over ownership of the Program membership account, the member will be deemed to be the authorized account holder of the email address submitted at the time of enrollment.  For purposes of these Terms, the "authorized account holder" is the natural person who is assigned to the submitted email address by an internet provider, online service provider, or other organization (e.g., business, educational institution, etc.) that is responsible for assigning email addresses for the domain associated with the submitted email address.
3. How the Program Works and Program Benefits
3.1. The Program is a way in which we reward and thank our loyal customers for purchasing our products and/or taking other Program related actions.  For your purchase to qualify for the Program, you must be enrolled in the Program and be signed into your online account at the time of purchase on the Site.  You are able to earn points and reach Program loyalty tiers by making eligible purchases or taking certain other Program actions.  Once you reach a certain loyalty tier and/or earn a certain number of points, you may be eligible for certain benefits and rewards applicable to that tier and/or number of points, which benefits may change from time to time and may be offered on a limited basis. Eligible purchases and other opportunities to reach Program loyalty tiers or earn points will be posted on the Site or may be published through other media (e.g., in-store, in marketing communications, social media, etc.).  Visit our FAQs to learn more about earning points and reaching the Program loyalty tiers.
3.2. DL Rewards is a rewards-based program determined by the number of points a member has earned on eligible purchases and through qualifying activities, beginning on the date of enrollment. There are several ways to earn points:
Refer your friends = 1,000 points
Create an account = 250
Make a purchase = 5 points per $1
Follow us on Instagram = 50 points (@DLEYEWEAR)
Sign up to our mailing list = 50 points
Like us on Facebook = 50 points
Add your birthday = 1 point
3.3. DL Rewards members receive 5 points for every $1 spent on eligible purchases on thisisdl.com. Eligible purchases include regular priced merchandise and exclude eGift Cards, sales tax, state fees, discounts, shipping and delivery charges and/or other excluded charges specified by us from time-to-time. All points earned from purchases on the Site are pending until your order ships, at which point they are, subject to all limitations herein, fully matured and capable of redemption.
4. Program Benefits and Rewards
4.1. As a member, you earn points that determine your rewards benefits. To redeem offers and rewards, you must have accumulated the minimum number of points as established by us for a particular benefit.  Product rewards are shipped with product purchases on the Site only.  Points may never be exchanged for cash.  You must be logged in to your Program account to use your benefits.  You will find your eligible offers and rewards (with offer codes if applicable) listed in your personal account.  Qualifying members will receive email invitations when event rewards are available if they have not opted-out of receiving Program emails.
4.1.1. Points Benefits: At different point levels, you will be able to redeem your points for rewards that can be used in conjunction with a purchase on thisisdl.com. These rewards are based on the total number of points you have accumulated in a single year as listed below. You may redeem one reward per transaction on thisisdl.com.
Rewards
Every 500 points = $5 voucher that can be redeemed online with purchase. Examples:
500 points = $5 voucher (Online w/purchase)
1,000 points = $10 voucher (Online w/purchase)
1,500 points = $15 voucher (Online w/purchase)
2,000 points = $20 voucher (Online w/purchase)
Birthday gift*
* During the month of your birthday, you can redeem your Birthday Gift on thisisdl.com by applying your offer code, which will be emailed to you two weeks prior to your birthday if you have provided your birth date in your account profile. Birthday gifts must be redeemed within 60 days of receiving your offer code. For example, if you receive your offer code on October 15, you must redeem your gift by December 15, otherwise the offer will expire. You must be logged into your DL Rewards account to redeem your birthday gift. There is a limit of one Birthday Gift per member per year and Birthday Gifts cannot be transferred, delayed, exchanged or returned.
4.2. Offers and rewards are available while supplies last and substitutions may be made by us in our sole discretion. If your online order is not completed for any reason, any offers or rewards will be removed from your shopping basket and may no longer be available. You are not required to redeem your accumulated rewards and/or benefits. We are unable to reship offers or rewards if they arrive damaged, if you received the wrong one or if one is missing from your order. In the event an offer or reward arrives damaged, you received the wrong one, or one is missing from your order, please contact Customer Service.
4.3. Neither accounts nor Program rewards, benefits and/or points may be shared or combined.  Only the member paying for the products may accumulate rewards, benefits and/or points.  Members will not receive rewards, benefits and/or points on purchases which are reimbursed by corporations or other organizations ineligible to participate in the Program.
4.4. Rewards, benefits and/or points earned through the Program have no cash value, are non-transferable, and you have no property rights in or to rewards or other Program benefits.  Points credited to your Program account will be decreased or reversed, as applicable, if part or all of the purchase is returned or cancelled or if the credit is obtained through fraudulent or other activity that violates these Terms.  The sale, barter, transfer, or assignment of any rewards or benefits offered through the Program, other than by us, is expressly prohibited.
4.5. Rewards cannot be exchanged or returned for points, another product or a monetary refund.
4.6. The products and services available through the Program and any samples that we may provide to you are for personal use only. You may not sell or resell any of the products, services, or samples you purchase or otherwise receive from us. We reserve the right, without notice, to cancel or reduce the quantity of any order to be filled and/or any products or services to be provided to you that we believe, in our sole discretion, may result in the violation of our Terms.
4.7. To be eligible for points, purchase must be made on qualifying DL Eyewear products. Qualifying products include regular priced merchandise and exclude eGift Cards, sales tax, state fees, discounts, shipping and delivery charges and/or other excluded charges specified by us from time to time.
4.8. We are not responsible for rewards, benefits and/or points lost or redeemed due to fraudulent activity.
4.9. We reserve the right to change Program benefits, how you earn points and how we evaluate and reward your eligible purchases and/or other Program activity.  We reserve the right to place limits on the number of purchases or activities that are eligible for the Program and/or for any given point level, the number or types of rewards or benefits you may receive or earn at any given point level, in a given time period or for the duration of the Program, and/or any combination thereof. 
4.10. If you have concerns that a purchase or other activity was not properly applied to your account, you should contact DL Eywear Customer Service via email at info@dleyewear.com.  Your email must specify your name and email address associated with the Program, the date of the Program activity, and the issue(s) you encountered.  This email must be sent no more than forty-five (45) days after the date the purchase or other Program activity took place.  We are not responsible for late notifications about purchases or other Program activities not being credited to an account.
4.11. Rewards can only be redeemed on the Site, unless otherwise noted by DL Eyewear.
4.12. You are solely responsible for any federal, state and/or local tax liability attributable to any reward.
5. Program Communications
5.1. By enrolling in the Program, you will be automatically subscribed to receive and consent to receiving DL Eyewear marketing emails and Program related emails.
5.2. You may opt-out of receiving DL Eyewear marketing emails at any time by following the instructions provided in the email or as otherwise provided in the DL Eyewear
Privacy Policy
, but operational emails will still be sent to you as they relate to your membership in the Program.  Examples of these include, but are not limited to, a redemption confirmation email, a new points acquisition email, a profile update email, or other communications that relate to your account.  If you terminate your Program membership, you will no longer receive Program-related communications.
6. Termination and Modification
6.1. The Program and its benefits are offered at our sole discretion.  We may, in our discretion, cancel, modify, restrict or terminate these Program Terms, our FAQs, and/or the Program or any aspect or feature of the Program at any time without prior notice, even though such changes may affect the value of rewards or benefits already accumulated or earned and/or the ability to redeem accumulated rewards or benefits. 
6.2. We reserve the right to exclude you from or to discontinue your participation in the Program and to audit your membership account at any time, in our sole discretion.  Any suspected abuse of the Program, failure to follow any Program Terms, membership inactivity (i.e. no points earned or redeemed for more than 24 months), illegal activity, fraud, misrepresentation or other conduct inconsistent with these Program Terms and/or detrimental to us or our interests, including without limitation, any suspected illegal, fraudulent other unauthorized use of any Program rewards, points, cards, credits, vouchers, coupons and/or certificates, may result in the revocation of your membership and make you ineligible for further participation in the Program.  If your membership is revoked, any rewards or benefits in your account will automatically expire and your access to the Program and features will automatically terminate. If we suspect illegal activity, fraud, misrepresentation, abuse or violation of these Terms, we also have the right to take appropriate legal action, in our sole discretion.
6.3. If you decide you no longer want to be a part of the Program, you may cancel your membership at any time by reaching out to DL Eyewear Customer Service at info@dleyewear.com.
7. Disclaimer of Warranties; Limitation of Liability
7.1. NEITH​ER DL EYEWEAR NOR OUR PARENTS, SUBSIDIARIES, AFFILIATES, PARTNERS, OR LICENSORS MAKE ANY REPRESENTATIONS OR WARRANTIES OF ANY KIND WHATSOEVER, EXPRESS OR IMPLIED, IN CONNECTION WITH THESE TERMS OR THE PROGRAM OR ANY OF THE REWARDS OR BENEFITS ASSOCIATED WITH THE PROGRAM INCLUDING, BUT NOT LIMITED TO, WARRANTIES OF MERCHANTABILITY, NON-INFRINGEMENT OR FITNESS FOR A PARTICULAR PURPOSE, EXCEPT TO THE EXTENT SUCH REPRESENTATIONS AND WARRANTIES ARE NOT LEGALLY EXCLUDABLE.
7.2. YOU AGREE THAT NEITHER DL EYEWEAR NOR OUR PARENTS, SUBSIDIARIES, AFFILIATES, PARTNERS, OR LICENSORS WILL BE RESPONSIBLE OR LIABLE IN CONTRACT, WARRANTY OR IN TORT (INCLUDING NEGLIGENCE) FOR ANY (a) INTERRUPTION OF BUSINESS; (b) ACCESS DELAYS OR ACCESS INTERRUPTIONS TO THE PROGRAM; (c) DATA NON-DELIVERY, LOSS, THEFT, MISDELIVERY, CORRUPTION, DESTRUCTION OR OTHER MODIFICATION; (d) LOSS OR DAMAGES OF ANY SORT INCURRED AS A RESULT OF DEALINGS WITH OR THE PRESENCE OF THIRD PARTY LINKS ON THE SITE OR USE OF ANY REWARD OR BENEFIT OF THE PROGRAM; (e) COMPUTER VIRUSES, SYSTEM FAILURES OR MALFUNCTIONS WHICH MAY OCCUR IN CONNECTION WITH YOUR USE OF THE SITE, INCLUDING DURING HYPERLINK TO OR FROM THIRD PARTY WEBSITES; (f) ANY INACCURACIES OR OMISSIONS IN PROGRAM CONTENT; OR (g) EVENTS BEYOND OUR REASONABLE CONTROL. WE MAKE NO REPRESENTATIONS OR WARRANTIES THAT DEFECTS OR ERRORS WILL BE CORRECTED.
7.3. FURTHER, NEITHER DL EYEWEAR NOR OUR PARENTS, SUBSIDIARIES, AFFILIATES, PARTNERS, OR LICENSORS WILL BE LIABLE FOR ANY INDIRECT, SPECIAL, PUNITIVE, INCIDENTAL, OR CONSEQUENTIAL DAMAGES OF ANY KIND (INCLUDING LOST PROFITS) RELATED TO THE PROGRAM OR AND YOUR PARTICIPATION THEREIN, WHETHER IN CONTRACT, WARRANTY OR IN TORT (INCLUDING NEGLIGENCE), EVEN IF WE HAVE BEEN ADVISED OF THE POSSIBILITY OF SUCH DAMAGES AND IN NO EVENT SHALL OUR MAXIMUM AGGREGATE LIABILITY FOR SUCH CLAIMS EXCEED ONE HUNDRED DOLLARS ($100.00).
7.4. YOU AGREE THAT NO CLAIMS OR ACTION IN CONTRACT, WARRANTY OR IN TORT (INCLUDING NEGLIGENCE) ARISING OUT OF, OR RELATED TO, YOUR PARTICIPATION IN THE PROGRAM, USE OF ANY REWARDS OR OTHER BENEFIT OR THESE TERMS MAY BE BROUGHT BY YOU MORE THAN ONE (1) YEAR AFTER THE CAUSE OF ACTION RELATING TO SUCH CLAIM OR ACTION AROSE. IF YOU ARE DISSATISFIED WITH THE PROGRAM, TERMINATION OF YOUR MEMBERSHIP IN THE PROGRAM IS YOUR SOLE REMEDY. WE HAVE NO OTHER OBLIGATION, LIABILITY, OR RESPONSIBILITY TO YOU.
8. Indemnification
You agree to defend, indemnify and hold us, our parents, subsidiaries, affiliates, partners, licensors, officers, directors, employees, and agents harmless for any loss, damages or costs, including reasonable attorneys' fees, resulting from any third party claim, action, or demand resulting from your participation in the Program in violation of any law, rule, regulation or these Program Terms.
9. Governing Law and Disputes
9.1. This Program and these Program Terms will be governed by and construed under the substantive laws of the State of California, as if they were a contract wholly entered into and wholly performed within California and without reference to conflict-of-laws considerations.
9.2. ANY DISPUTE RELATING IN ANY WAY TO THIS PROGRAM, THESE TERMS, YOUR PROGRAM MEMBERSHIP, OR THE RELATIONSHIP BETWEEN THE PARTIES SHALL BE SUBMITTED TO CONFIDENTIAL ARBITRATION IN CALIFORNIA AND YOU AGREE TO SUBMIT YOURSELF TO THE JURISDICTION AND PROCEEDINGS THEREOF.  ARBITRATION MEANS THAT A SINGLE ARBITRATOR WILL DECIDE THE CLAIM, AND YOU WILL NOT HAVE THE RIGHT TO SUE IN COURT OR TO HAVE A JUDGE OR JURY DECIDE YOUR CLAIM. YOUR RIGHTS TO PREHEARING EXCHANGE OF INFORMATION AND APPEALS MAY ALSO BE LIMITED IN ARBITRATION.  It is further agreed that any dispute over the scope of this arbitration provision and any dispute as to whether a claim is arbitral shall be submitted to the arbitrator for decision.  Notwithstanding the foregoing, to the extent you have in any manner violated or threatened to violate our intellectual property rights or the intellectual property rights of our affiliates, partners or licensors or otherwise have a cause of action in equity, we may seek injunctive or other appropriate relief in any court of competent jurisdiction and you consent to jurisdiction and venue in any such court for such purposes. Arbitration under these Program Terms shall be conducted under the Consumer-Related Disputes Supplementary Rules then prevailing with the American Arbitration Association. The arbitrator's award shall be binding and may be entered as a judgment in any court of competent jurisdiction.
9.3. You agree that any arbitration or proceeding shall be limited to the dispute between us and you individually, and (i) no arbitration or proceeding shall be joined with any other; (ii) there is no right or authority for any dispute to be arbitrated or resolved on a class action-basis or to utilize class action procedures; and (iii) there is no right or authority for any dispute to be brought in a purported representative capacity on behalf of the general public or any other persons. YOU AGREE THAT YOU MAY BRING CLAIMS AGAINST US ONLY IN YOUR INDIVIDUAL CAPACITY AND NOT AS A PLAINTIFF OR CLASS MEMBER IN ANY PURPORTED CLASS OR REPRESENTATIVE PROCEEDING.
10. Privacy
The personal information collected from you in connection with the Program, including but not limited to purchases made in connection with your Program membership, will be used and disclosed by us in accordance with the DL Eyewear
Privacy Policy
.
11. Contact Us
For information about the Program and your membership, contact Customer Service at info@dleyewear.com. You will be required to confirm your full name and email address in order to validate your account. We are not responsible for requests or correspondence lost or delayed in the mail or over the Internet.  You may also find answers to helpful frequently answered questions in our 
FAQs
.