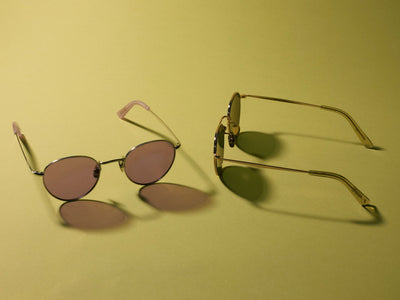 FAQ
Are your frames sold with prescription lenses?
At this time, DL Eyewear is not able to offer prescription lenses. All of our sunglass and optical frames, however, are designed to accommodate your individual prescription. All you have to do is take any pair of DL Eyewear glasses to your local optician or optometrist to have lenses fitted and framed to your liking.
In which currency are your frames priced?
All pricing is listed in USD.
How do your frames fit?
The dimensions of each of our frames are listed below the frame description on every product page. You can also find your ideal fit with our fit guide! Our glasses are designed to flatter a range of face shapes and sizes. If you're not happy with your order, please feel free to return them within 30 days of your purchase.
Are there any brick-and-mortar stores where I can try on your frames?
DL Eyewear is available for purchase directly through our website only at this time.
I have not received my order! What should I do?
If your order hasn't yet arrived, and you're having trouble tracking it, please email info@dleyewear.com with your full name, your order number, and the email address that you used to place the order. We will do everything we can to assist you!
How will I know about upcoming collections?
For now, there are two ways to stay up-to-date on news from DL Eyewear:

1. Sign up on a frame's product page to be notified by email once it's restocked.
2. Sign up to receive the DL Newsletter, and we'll keep you posted on our new collections, latest releases, and restocked frames.
Where does DL ship?
We ship all over the world. If a shipping service can get there, we will ship there. Please see estimated shipping times for international orders above. Packages may be subject to duties and taxes, which are not included at the time of checkout. Duties and taxes are calculated based on the item ordered, the total dollar amount of the order, and the country of delivery.
What is "See With Love"?
"See With Love" has been our guiding motto since DL Eyewear's inception. We believe that seeing with love involves viewing others with compassion, empathy, inclusivity, and a respect for the differences that may exist between us. We invite you to upload a selfie in your new DL Eyewear frames with the hashtag #SeeWithLove. How do you see the world, and the people in it, with love?
What is LISC?
Your DL Eyewear purchase supports an amazing non-profit called LISC (Local Initiatives Support Corporation), which offers emergency relief to small businesses struggling to survive the COVID-19 pandemic. We're proud to give back to underserved communities, helping to connect them with much-needed resources.  To learn more about LISC and its incredible work in both urban and rural communities across America, click here.
Where are your frames made?
DL Eyewear frames are designed in the United States and manufactured in China.  Our manufacturing partner complies with ethical sourcing guidelines and has a longstanding reputation as a global supplier of quality frames.
Do you offer price adjustments?
Sorry, but we can't make price adjustments. We only offer sales for a limited time, so by buying early, you ensure you get the style in the color and size you want. 
Do your frames come with a case?
Yes, our frames come with a soft protective case and microfiber cleaning cloth. 
Are your frames made from sustainable materials?
We use eco-friendly materials where we can, but, as of right now, the options are limited within the global eyewear industry. The DL Eyewear development team is on the lookout for new ways to make our product more sustainable.

The smaller the carbon footprint of our sourced materials, the better, which is why we offer limited runs of most frames. If we produce fewer frames at a time, we're less likely to be left with an overabundance of materials and product. Similarly, DL Eyewear doesn't follow the standard fashion calendar. Instead, we release smaller, curated collections only when we feel that we've perfected each frame.